LEGO Set Review: 40154 Pencil Pot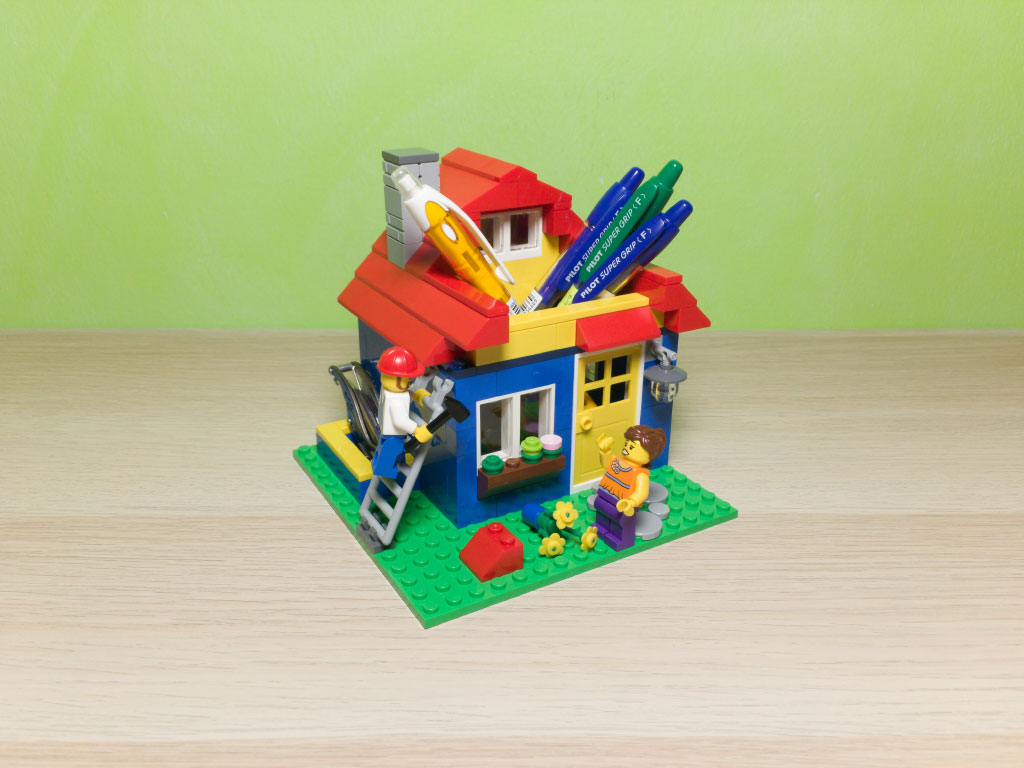 40154 Pencil Pot is a LEGO stationery set released in 2015. It's a brick-built pencil holder that takes the appearance of a classic Town-style LEGO house, with its decidedly 80s/90s color scheme of red, yellow and blue (with just a hint of extra color and detail to modernize it).
I've needed a place to store my stationery, including my pencils and pens that I use for Inktober, as well as my Gerber Curve knife (non-affiliated Amazon link) that I use for opening my LEGO set boxes, and when I learned about this set, I knew I had to have it. I could add it to my LEGO town and use it to store my stationery all at the same time. It's a match made in heaven, for me anyway! Every reviewer whose review of this set I've seen uses it for one or the other, but never both. Which is so strange to me!
Of course, you don't have to have an entire LEGO town for your Pencil Pot to be useful — it's designed to be put on your desk, or anywhere you like, really!
A new 40188 Pencil Pot was released just this year, replacing this one, but that model didn't appeal to me nearly as much. This set is much more substantial and wholesome in my eyes.
The box
The front of the box displays the model, as well as a mockup of some pencils though is quick to note that no pencils are actually included in the box. You do still have some of your own lying around, don't you? ;)
The back of the box is probably the closet we'll ever get to an "alternate model" without instructions after LEGO stopped putting alternate models on the back of set boxes, since the only differences are the fallen roof tile and flower pot being back where they belong. It could be seen as either before, or after, the scene on the front of the box.
Don't mind the slightly banged-up condition of the box here. My copy of this set was purchased from and shipped by another AFOL. It was manufactured way back in 2014!
What's inside
The box contains 4 unnumbered bags of parts sorted by size, a bright green 16x16 plate, and building instructions.
Behold the nostalgically generous helping of red, yellow and blue bricks! And on that note, there's also a pretty generous helping of windows considering the size of the house itself.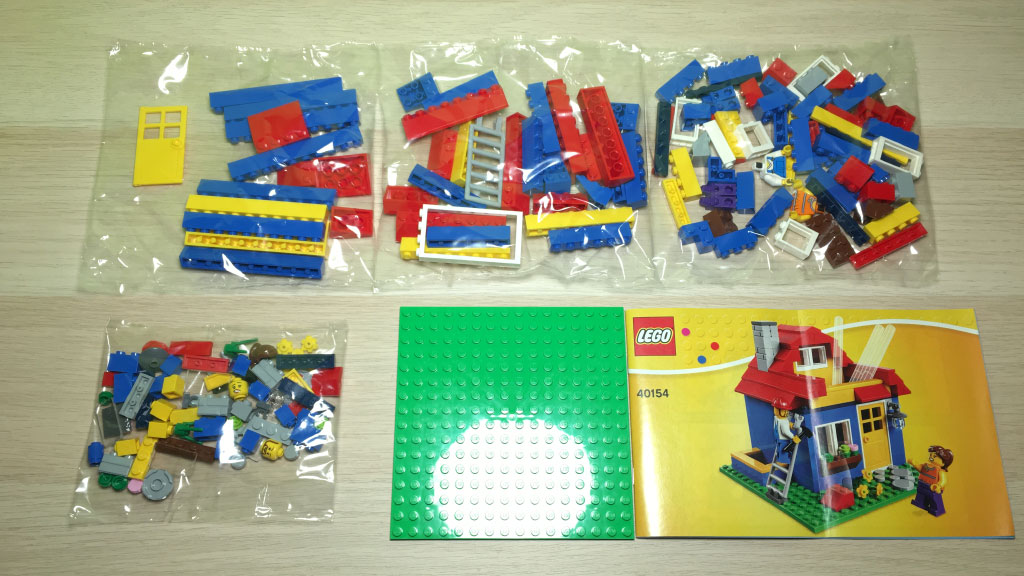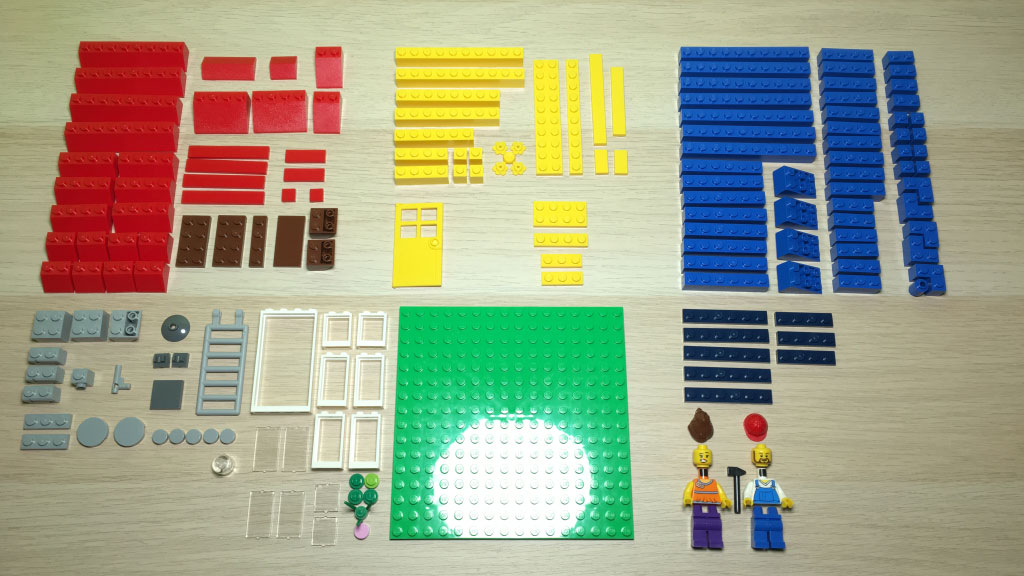 The model
This is such a quaint little cottage. I've raved enough about the color scheme earlier, but it's the nostalgic build of basic bricks, windows and roof tiles, the everyday minifigures, and the extra details that make this even better!
But the main purpose of this set is not to build a house for a LEGO town; it's as a place to store your stationery. To that end there are three areas:
A large cavity where the balcony would normally be into which pencils, pens and other writing tools go.
A small area at the side to hold an eraser or other small object for quick access.
The attic with a removable roof where more small objects can be stored.
The attic is rather cramped though, making it difficult to retrieve objects from once you've dropped them in. That's my only real complaint with this set, which tells you as much how smitten I am with it! But I digress.
The model itself is the same size as a typical pencil holder, so it'll be right at home in any office setup. The use of a 16x16 plate does increase its footprint somewhat, but it's not too bad. I know if I didn't have a LEGO town to place this in, it'd definitely go on either my computer desk or my LEGO work table!
The Pencil Pot with my stationery removed.
Recreating the model with a LEGO Classic set
As an experiment, I decided to see if I could use the bricks, doors and windows from 10703 Creative Builder Box to recreate the Pencil Pot (with its roof fixed).
I think I came pretty close! I was easily able to make up for the total lack of a 16x16 plate using only a small handful of the large plates, and while there weren't enough bricks of any one color (the major downside of today's LEGO Classic sets for most older builders), there were plenty enough of bricks in the sizes I needed if I combined them all.
Some of the finer details I was able to recreate include the small space at the side of the Pencil Pot, the flowers on the windowsill, and even the brickwork on the chimney (I took the creative liberty to use a few more of the brickwork bricks around the walls as well).
There aren't enough tiles to finish the attic, but there were just enough for the attic roof to be able to sit snugly. I couldn't recreate the porch light, ladder (I didn't think I needed to anyway) or the stone path leading to the entrance.
The model I built performs just as well as 40154 Pencil Pot, but I wanted to reuse the parts for other things, and I preferred having a proper, dedicated Pencil Pot set with which to store my stationery anyway, which is why I'll continue to use 40154 Pencil Pot to do so.
40154 Pencil Pot on the left, and 10703 Creative Builder Box on the right.
Conclusion
As I've said in the introduction, 40154 Pencil Pot is a match made in heaven, at least in my books. It's an unabashedly brick-built house, that functions as a container for my pens, pencils and other stationery. I plan to build a town in my LEGO room, and I will definitely be deploying my Pencil Pot at a location where I can easily reach my stationery whenever I need it!