LEGO Set Review: 10677 Beach Trip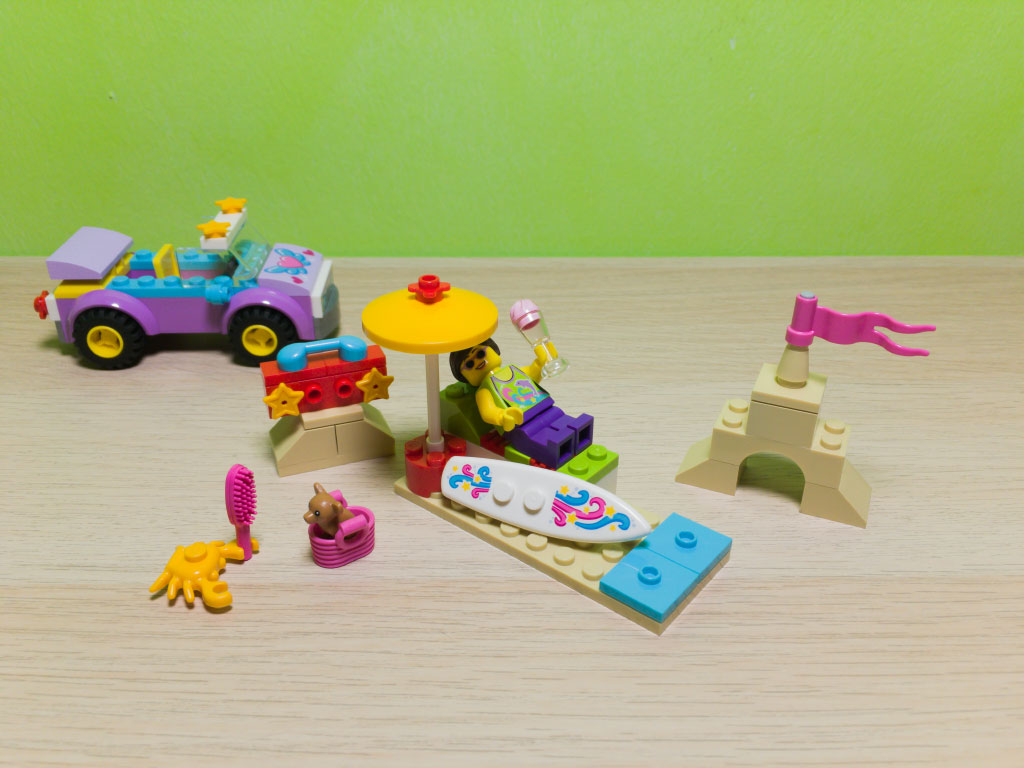 10677 Beach Trip is a small LEGO Juniors set released in 2015. LEGO Juniors is the current incarnation of LEGO's 4+ System sets, with large, specialized elements designed to make building of large vehicles and structures easier for the youngest of builders, and enable them to start playing with the models quickly. It's great for kids who are ready to outgrow LEGO DUPLO and move on to the real deal, so to speak.
To give you an idea of how long LEGO has been doing this sort of thing, I remember the 4 Juniors line with Jack Stone and other figures that were molded the same as Max and Tina of the 2000s LEGO Creator theme. My younger cousin owned a Jack Stone set that I've played with as well.
This was entirely and unabashedly an impulse buy, from a local toy chain that happens to sell LEGO products. I walked into the store only intending to browse, but the moment I saw this, and saw the sheer proportion of rare parts in such a small set, plus the medium lavender car body, I knew right away that I wasn't going to leave the store empty-handed. In fact, next week I'll be reviewing one other set that came from this same impulse haul, and it'll be a different style of review to the set reviews I've done thus far!
I've noticed that many older fans have a pretty vocal disdain for LEGO Juniors, calling the large, specialized elements ugly or bad and the models themselves too simplistic, and I don't know why; as its name implies, this theme is clearly not designed with older fans in mind. The whole point of simplifying things is to make building easier for the youngest of builders who may not have the best attention spans or most well-developed motor skills. And you don't need realism in a world that runs on a child's imagination.
In general there seems to be a common theme of older fans of shows and products designed primarily for children, who can't seem to comprehend why they cater to children and not them. And it never ceases to baffle me.
I feel like I'm the only older fan that's capable of enjoying these sets for what they are. So if you're an older fan that's expecting any comments about how simplistic or "dumbed down" the set is, you'll be sorely disappointed, because I thoroughly enjoyed building, photographing, reviewing, and playing with this LEGO set, and never once did I feel that it was "dumbed down".
If you're just as excited as I am to learn about this set, though, let's begin!
The box
The front of the box contains everything you get with this set, plus the LEGO Juniors branding along with the theme-specific box decoration, which is pink instead of red. Evidently, LEGO still markets certain themes and sets to girls, but gender-specific marketing is neither a rabbit hole I want to fall into nor what you're reading this for in the first place, so let's move on.
The two foreground features you'll notice immediately are a minifigure with a cool-looking surfboard, and a colorful car with a medium lavender body. Medium lavender is one of my favorite colors in the current LEGO palette, which is why I had to have this set right away. On the car is a basket with a chihuahua! In the background you can see a beach chair with parasol and ice cream, a sandcastle, a radio sat atop a sand mound, and a curious crab.
The back of the box features the lone tan 2x2 brick included in this set with the label "Easy start with the LEGO® Brick", a picture of the minifigure on her surfboard, a picture of her driving her car while wearing sunglasses, and a section explaining the Easy to Build workflow of LEGO Juniors sets with an exploded view showing how quickly and easily the car can be put together. Oh and there's a push tab with which to open the box so no tape-cutting.
What's inside
The box contains 2 unnumbered bags of parts sorted roughly by size, the medium lavender car body, and building instructions.
Although there are a couple of decorated elements in this set, there are no stickers in LEGO Juniors sets as younger kids typically don't yet have the fine motor skills to be able to apply them well. Plus they're time-consuming.
As this is a small set with fewer than 100 parts, the parts themselves are sorted into unnumbered bags with the expectation that all of them be opened at once for assembly. I have knolled the set for the sake of taking a pretty photo to put in this review, but in the spirit of just dumping the parts out and building right away as most people do, after I was done knolling and shooting I immediately recollected all the parts into one big pile before starting to build.
And I had tons of fun.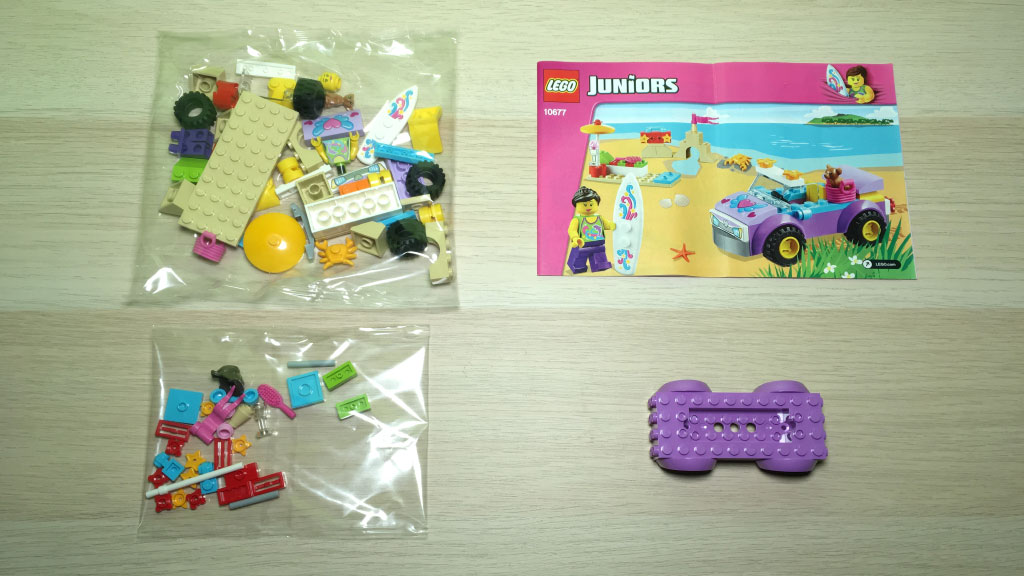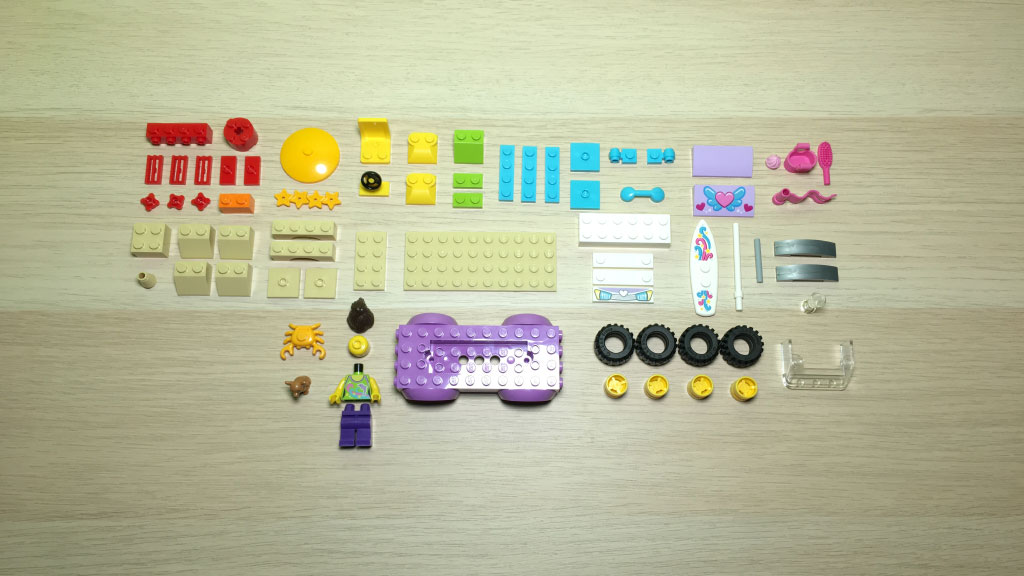 New, noteworthy or rare parts
Among the 74 parts in this set are a number of very interesting and even exclusive elements — over 10% of them appear in 5 boxed sets or fewer, even taking into account the fact that this set is now 3 years old!
1x lavender 2x4x2/3 curve with hearts and wings decoration which remains exclusive to this set!
1x medium lavender 4x10 LEGO Juniors car body (shown below in a later section), only seen in one other set, 2016's 10728 Mia's Vet Clinic
1x white surfboard with stars and swirls decoration, only seen in one other set, 2017's 41306 Mia's Beach Scooter, and in a foil pack that came with a 2016 LEGO Friends magazine
1x white 1x4 tile with headlights and grille decoration, seen in two LEGO Juniors (Friends) sets, one in 2016 and one in 2017
1x dark pink hairbrush, seen in one other LEGO Juniors set, 10686 Family House, and in two LEGO Elves sets, all from 2015, with no appearances in subsequent years in this color (for reference, 10404 Ocean's Bottom includes one in flame yellowish orange)
2x pearl silver 1x4x2/3 double curve, seen in two LEGO Ultra Agents sets and one LEGO Mixels set, all from 2015, with no appearances in subsequent years
1x medium nougat chihuahua (shown below in a later section), first introduced as a Series 10 Collectible Minifigure pet, then also appearing in 21302 The Big Bang Theory and 10255 Assembly Square
2x medium azure 1x1 plate with lamp stud, seen in three other boxed sets and 1 polybag but never seen after 2015
1x medium azure radio handle, seen in five other boxed sets including 71006 The Simpsons House, 71016 The Kwik-E-Mart and a LEGO The Angry Birds Movie set, and 1 polybag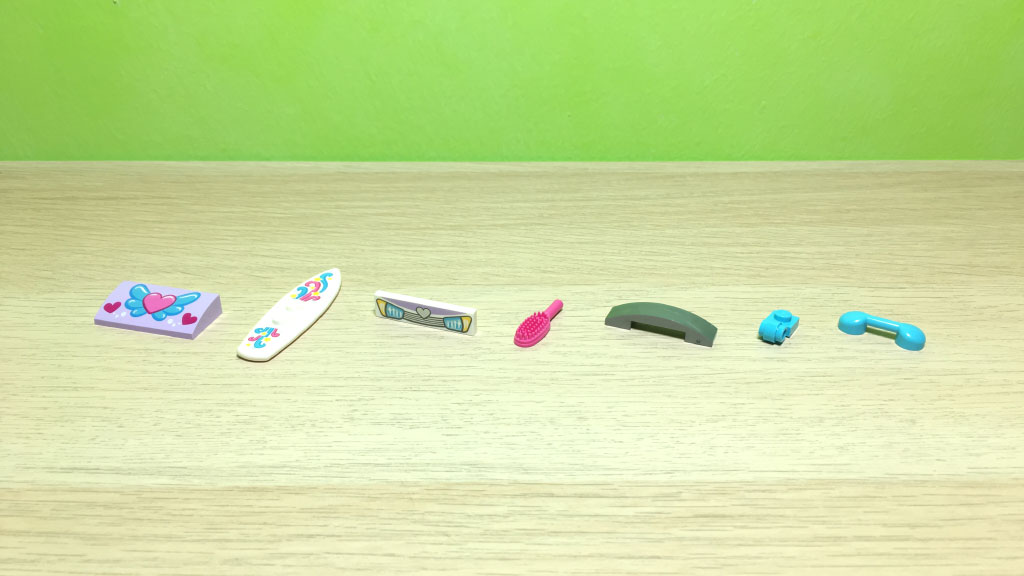 Building instructions
The instruction booklet in this set starts with a cute comic-style illustration of the set, which I thought was a neat little addition.
Then it takes you right to the build.
Minifigures
This set includes one minifigure. Her torso, first introduced in this set, is a lime green halter top with a dolphin and swirls print on it, which is really pretty! And this torso has since appeared in only three other retail sets along with a FIRST LEGO League set. Pretty rare indeed!
Her head includes an alternate face with a pair of sunglasses on. This head was also first introduced in this set! But unlike the torso, it's appeared in many, many other sets since. I expect to accumulate lots of duplicates over time, which means more people for my LEGO city!
And there's also her pet chihuahua, whose rarity I've detailed above. Are you starting to understand just how rich in rare and exclusive LEGO elements this small set designed for younger builders is?
The models
Car
Before I show you the completed car, here's what the car body looks like. You can see that most of the body is there, as well as an integrated set of mudguards (that have a unique, asymmetrical curve to them not seen in other mudguard elements), wheel axles, space for minifigures to sit, and last but not least, studs on the front and back for headlights and bumpers.
The first thing the building instructions have you add are the wheels. This is different to conventional LEGO sets that save the wheels for last. Then the instructions take you through building the top of the car, then the front, then its rear. And just like that, the car is ready to hit the road!
You can see the lavender 2x4 curve with hearts and wings decoration being used as the hood to great effect. A plain version of the same brick is used as a spoiler on the rear. And speaking of the rear, the taillights are red flower plates on a 1x4 plate with studs only on the ends!
There's space behind the driver's seat for at least some of her belongings, such as the surfboard and the basket with hairbrush, but not enough for her radio and parasol. I reckon most kids won't have a problem with this, though.
My only real gripe with the car is that the seating area is kind of a tight squeeze for the minifigure due to the sides of the windscreen. Even I had to put a bit of effort into working the minifigure in, so younger builders might have a bit of a hard time too.
Beach accessories
The beach accessories include a beach chair with parasol, an ice cream to cool off, a sandcastle, a radio sat atop a sand mound, and a curious crab. Like the car, all of these accessories are easy to build, with the beach chair itself being really just a 2x6 brick with a slope and some plates and grilles lain on top of it.
The sandcastle is a simple build, but of note is the flag, which not only is pink, but it could've easily been attached by snapping it directly onto the cone; instead, it's attached with a light grey bar that you then stick into the cone for added stability. As for that light grey bar? You get a spare. It's a shame this set doesn't come with a bucket with which to move sand, though!
The sand mound is a separate assembly from the radio, connected by a single stud on a 2x2 jumper. The radio can be placed anywhere you want, but I thought it cute that the minifigure chose to put it on a pile of sand just to elevate it a little. To us builders, this simply means more tan slopes, plates and jumpers to play with!
Here are some photos telling a little story!
We've just arrived at the beach!
Conclusion
What tremendous value I got out of this LEGO Juniors set!
Lots of interesting and rare parts considering the small size
Lots of pretty colors, especially with that medium lavender car body I just can't get enough of
A great minifigure to add to your LEGO city, plus a pet, and fauna
Simple builds to get younger kids up to speed with a surprisingly decent volume of stuff (as JANGBRiCKS often says) to play with
Surprisingly, and perhaps even intentionally, good rebuild value with the additional sand-colored bricks and slopes beyond just those making up the sandcastle shown on the box
All in a small and very affordable package! Though it seems that according to Brickset, it was in production for less than a year. Now, this being a LEGO Juniors set, I'm sure lots of it actually exist, but I'm still surprised LEGO didn't continue making and selling it well into 2016.
Which just makes me even more glad I found it in a store that happened to have retired LEGO sets for sale — at a discount!