LEGO Set Review: Exclusive 30 cm LEGO Dog
The LEGO Store bag. What could be inside?
You may have noticed the seemingly strategically and deliberately placed LEGO Store shopping bag among the visible sets in the photos in my announcement of the LEGO Room on blog.NOVALISTIC. Inside it is a mystery set that I wanted to wait until after I'd opened and reviewed all the other sets in the haul to get into.
And that's because it's an exclusive brick-built sculpture of a 30 cm tall LEGO dog, that I won from LEGO Singapore by being entered into a lucky draw for spending over $100 in a single LEGO purchase! This was in addition to the Gift with Purchase of 40235 Year of the Dog, which I reviewed last week. They had me collect it from their agency, and when I was there to pick it up, I was told I'd "need" to build it myself.
I literally said "Awesome" out loud.
What's inside
There is nothing more that's inside the bag than just lots and lots of 2x4 bricks (plus a handful of other bricks and plates). I was also given building instructions, of course.
The bag has no official set number, but the 7-digit item number 6238721 as well as the barcode are shown on the label. Interestingly, the label also has the title "LNY18 SP Small DOG" printed on it. They also clearly felt the need to indicate on both the label and the building instructions that only one of these models can be built!
I didn't bother with knolling here due to the sheer number of 2x4 bricks. But, notably, there are significantly more medium nougat 2x4 bricks than white ones. More than 500 elements in total are used in the construction of this sculpture.
What's interesting about the building instructions is that the cover page suggests that this set was intended for a public building event for kids, but as far as I know no such event has taken place. The closest is a building event that involved parents and kids building polybag-sized dogs as well as a collective build of a single 1-meter-tall LEGO dog, but nothing about individuals building (and taking home?) 30 cm LEGO dogs.
Oh and in the 65 steps, a step between 54 and 55 was completely missing. Thankfully, it was just one step, and the 6x medium nougat 2x4 bricks I needed were easy enough to reverse engineer. (Actually, while it's an existing term used by fans, "reverse engineer" might be excessive for a single step.)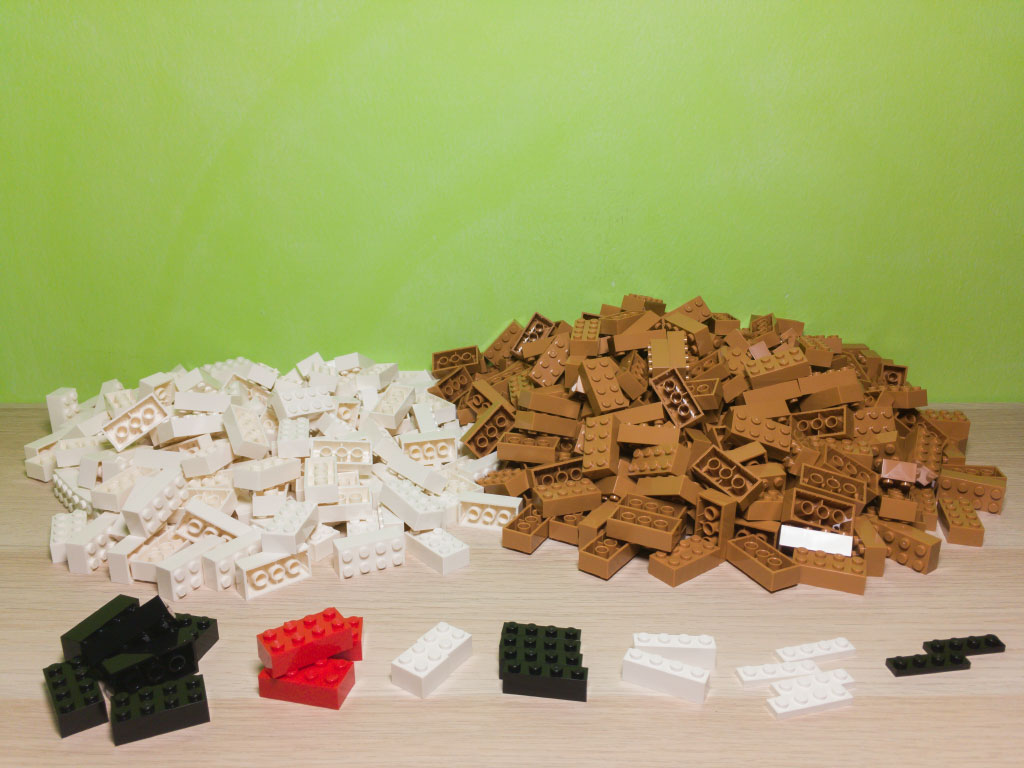 The model
This brick-built sculpture is reminiscent of sculpture sets I used to see on LEGO.com when I was a kid, such as 3723 LEGO Mini-Figure, 3724 LEGO Dragon, and 3450 Statue of Liberty, as well as the Ultimate Collector Series set 7194 Yoda which I saw in my LEGO catalog. I never thought I'd ever get a chance to build my own LEGO sculpture. In fact, I'm still incredulous.
The model itself is actually hollow on the inside, not only to reduce the number of bricks you actually use but also to make it lighter. It is still pretty weighty though, and as with any large model I carried it around very carefully.
The entire model is static and brick-built. There are no moving or interactive parts, and even the eyes are brick-built down to the irises and the glints. The tongue is made of just 3x red 2x4 bricks, and is meant to be asymmetrical. I like that the dog has one paw up as well — giving it not only a bit of personality but also more asymmetry, so the build doesn't get too boring.
Notably, unlike 40235 Year of the Dog, whose coat uses the color dark orange, the coat of this dog is in medium nougat. I think it looks better that way — I like both colors (though I definitely prefer medium nougat), but dark orange would have been too much of a contrast wtih the white on such a large model. Also, dark orange 2x4 bricks are significantly rarer than the already uncommon medium nougat ones.
Also, for some reason, at the end of the build I was left with an extra 4x white 2x4 bricks and 6x medium nougat 2x4 bricks. I've confirmed I didn't follow any of the steps incorrectly (including the one that was missing from the instructions themselves), so this might just be a packing error or a really, really generous overcompensation. Either way, I get more white 2x4 bricks, but more importantly, I get a handful of medium nougat 2x4 bricks to play with!
4x white 2x4 bricks and 6x medium nougat 2x4 bricks were left over.
Conclusion
Not much to say here... this is an exclusive promotional giveaway of a really nice brick-built sculpture that I was very lucky to have won. This is a display piece I'm definitely proud of, especially considering I'm quite a dog person myself. And the extra medium nougat bricks are just icing on the cake.