My first BrickLink experience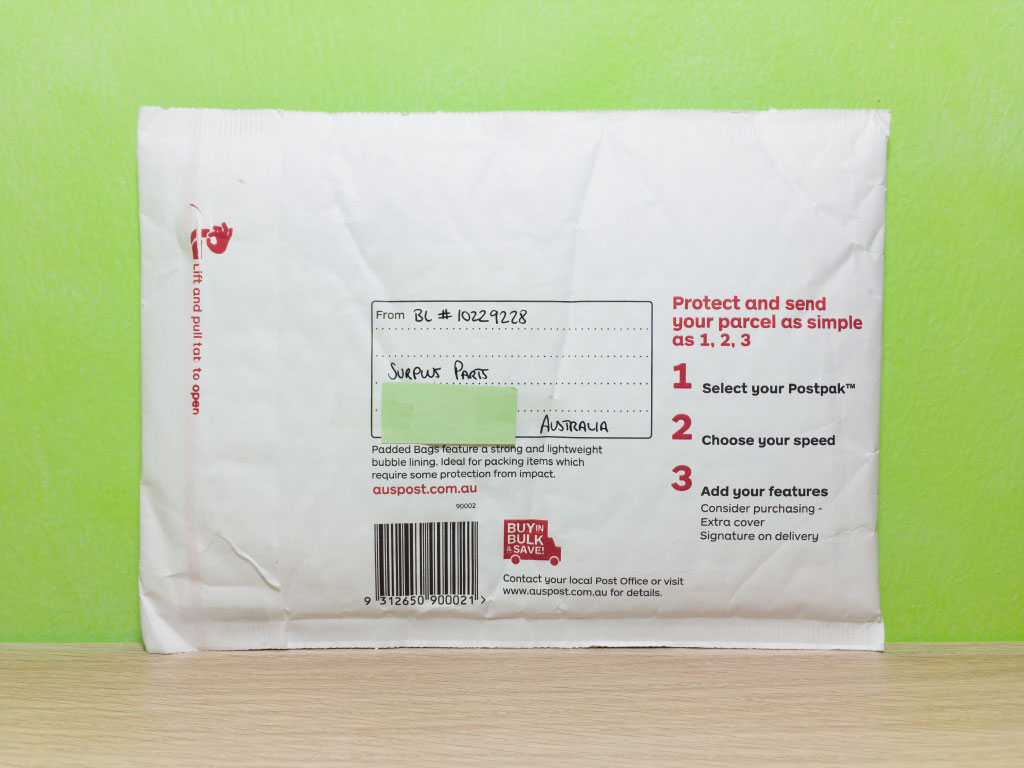 BrickLink is a marketplace for fans to buy and sell LEGO products, including sets, parts, minifigs, other merchandise, and even original creations. It's been around for nearly 20 years now — even I had heard of the site before entering my Dark Ages. But back then I was too young to order anything online, so I never got to experience it.
Ever since getting back into LEGO early this year, I've been exploring sets, inventories and stores on BrickLink, as well as moving up from the old LEGO Digital Designer to BrickLink's Studio to design models. I have several of these models in mind and therefore several unique LEGO elements in mind, but occasionally I'd browse sellers of part 85489, the large steam train wheels first introduced in the venerable 10194 Emerald Night and currently available in red in 10254 Winter Holiday Train, and in black in 75955 Hogwarts Express. You see, one of my long-term goals for my LEGO town is to build a steam train, and unfortunately Big Ben Bricks train wheels are cost prohibitive, due in large part to shipping, so that was not an option for me. The official LEGO steam train wheels in black were made significantly less expensive after the release of 75955 Hogwarts Express this year, though they were still by no means cheap.
Then, sometime in mid-November, I discovered a store based in Australia called Surplus Parts, which had these train wheels for less than $7 per set (which was cheaper than average), and was able to ship them to me for just over $2. Less than $16 for two sets of original LEGO steam train wheels including shipping was (and still is) a fantastic deal, especially considering that the train wheels alone cost more at the only local BrickLink store that carried them. There were tons of US-based stores that had these train wheels for yet less, but shipping often cost more than the train wheels themselves. I don't think I'll be ordering from the US anytime soon for this reason, as much as I'd be honored to have BrickTsar film a PABLO video of one of my orders.
As this was my very first time ordering from BrickLink, I started off by sending the store owner Douglas a message with a couple of questions. He welcomed me to BrickLink, answered my questions thoroughly and even gave me tips on navigating the site. He was very patient and professional in his responses. Several exchanges and quote requests later, I placed an order for the first time, and to our surprise it arrived in just 9 days.
The package
A BrickLink store will list its shipping and payment details on either its Terms or Splash tabs and not only will you want to peruse these details carefully, but also do not hesitate to contact the seller if you have any questions or anything seems unclear to you. Many sellers, including Surplus Parts, also have BrickLink's quote feature enabled which allows you to request a price quote without/before committing to an order, which is extremely handy for determining actual shipping costs (which often cannot be known in advance).
In my case, one of the things I asked Douglas was the total weight I should keep my order under to stay within the 50g limit to save on shipping, given that some of that weight limit would have to be reserved for packing material. This can vary, of course, but it's often good to have a ballpark to work with.
The parts I ordered, including the train wheels, were small enough to fit in a padded envelope to minimize shipping costs and risk of damage. I know for sure that the train wheels were mint, because they were in the perforated bags that LEGO ships them in with sets — incidentally, one of my initial questions that Douglas answered. The rest of the parts were packed into a total of 3 baggies, in a separate group.
Everything was packed very efficiently with just enough material necessary and no more. The use of paper as an additional layer of protection alongside the bubble wrap was a nice touch and actually one I've never seen in any of the BrickLink haul videos I've seen on YouTube, ever. Just the right amount of tape was used to hold each group of parts together, presumably to keep individual baggies from moving around too much.
Some sellers include documentation (e.g. the invoice), a note, or some other token in their deliveries; there was none of that here as it would've added extra weight to the order, and really isn't necessary. So, I don't see it as a bad thing.
Opening the padded envelope.
What's inside
All the parts were new as described and have been accounted for and sorted into my LEGO parts collection. As mentioned, the train wheels were practically mint since they were still in the perforated bags they come in with sets. I haven't even opened those perforated bags yet, because I want to preserve the wheels until I'm finally ready to start prototyping physically with them.
I continue to use my own names for parts in the captions because they're not as verbose, but this being a BrickLink order, it's only fitting that I use the BrickLink names here. Here's what's in each of the other three baggies:
8x Yellow Window 1 x 2 x 3 Pane with Thick Corner Tabs
3x Light Bluish Gray Technic, Pin 1/2
1x Pearl Gold Brick, Round 1 x 1 Open Stud
4x Medium Lavender Slope, Curved 2 x 2 No Studs
3x Black Technic, Axle 6
3x Pearl Gold Tile, Round 1 x 1 with Bar and Pin Holder
4x White Door 1 x 4 x 6 with 4 Panes and Stud Handle
I picked up the medium lavender curves because no BrickLink seller in Singapore had any. Everything else is available locally, but was anywhere from 1 to 6 cents cheaper per piece from Surplus Parts, which is why I took the opportunity to fill up my order to reach the weight limit for shipping.
Speaking of which, the yellow window panes were just 2 cents each! I'll get some frames for these doors and windows in a future BrickLink order.
In this baggie: 8x yellow window panes (for just 2 cents each!), 3x light grey 1/2 Technic pins and 1x pearl gold round brick.
Comparing BrickLink and Pick A Brick
BrickLink feels to me very much like an internationally available version of LEGO.com Pick A Brick (the online service). It's got the widest selection of parts from sellers all over the world, and you really can pick and choose specific parts that you need. This is a big boon over LEGO Pick A Brick walls which have limited selections, especially in Singapore where they're very small.
However, rarer parts can be pretty expensive as seen with the steam train wheels, and even without considering those, Pick A Brick walls remain the undisputed king of price-to-part ratios and their averages are almost always less than the averages of BrickLink orders. You could pack anywhere from 1 and a half to 3 times as many parts into a large Pick A Brick cup for the total cost (including shipping) of a BrickLink order. Time may not always be on your side, though, as you have to take travel and packing time into account, among other factors.
So, for large quantities of readily available parts such as basic bricks and plates, be sure to check your local Pick A Brick wall if you have access to one. For everything else, and for those who don't have access to a Pick A Brick wall, BrickLink is the go-to.
Many sellers do sell their used bricks, but there's plenty of new to go around and there's nothing wrong with keeping orders only to new parts. I know I'll be doing that unless I'm trying to fill in missing parts for my old sets.
And there's more than just parts on BrickLink; it's also got sets, which makes it another similar option to marketplaces like Carousell for buying LEGO sets. I plan to focus my BrickLink orders on parts for now, but I'm certainly not ruling out buying sets through the site in the future.
Conclusion
My first BrickLink experience was fantastic (and yes, I did leave feedback for Surplus Parts to that effect — buyer and seller feedback is very important on BrickLink!). I've been very fortunate to meet a patient and welcoming seller who went above and beyond to make sure that my first order was fuss-free and I had a pleasant experience. What's cool is that I live in Singapore, and my first order was an international one, plus the seller is based in Australia, a country that's very close to my heart — and this has just made it even closer.
I know I said this exact same sentence in last week's Pick A Brick review, but: I can't wait to show you what I'll be working on.